How to prepare for a romantic dinner on a boat in Naples, Italy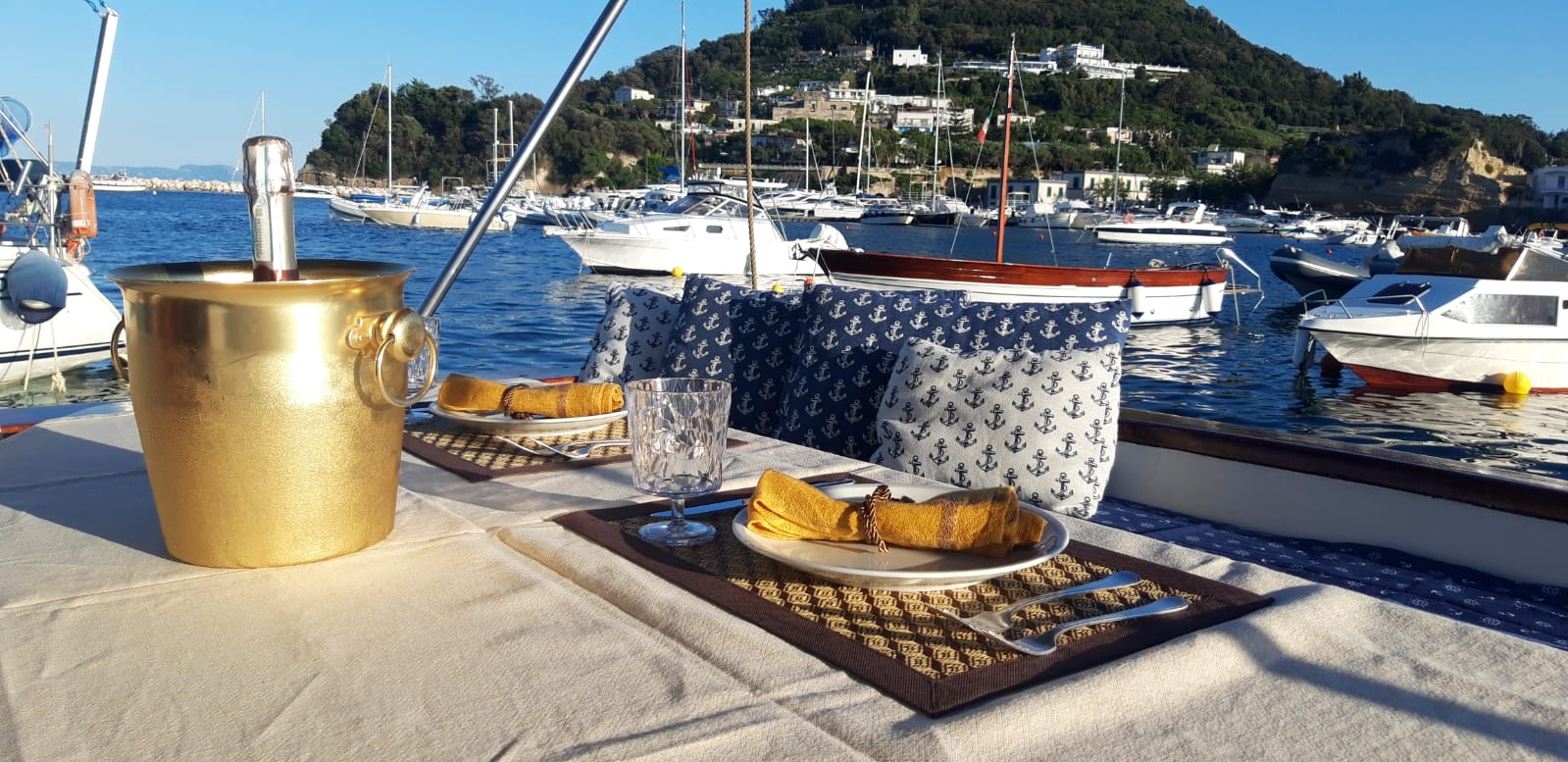 If you are looking for an original and exclusive way to surprise your loved one, then you should consider a romantic evening in the Gulf of Naples on a boat, the perfect location to impress and make your special moment unforgettable!
The atmosphere, the menu, the music: this little guide will help you prepare yourself and fully enjoy your dream evening.
1. The atmosphere
The boat at your complete disposal, the privacy of being the only guests, soft lights and background music will help you feel immediately at ease.
Be yourself and you will fully enjoy the company of your love, between sundecks at the bow and the lounge on the cockpit, where you can sip a prosecco. You will be surrounded only by the sea and the starry sky.
All accompanied by an impeccable service, as the staff will be at your complete disposal.
2. The music

If you want to give your musical choice a personal touch, you are free to do so!
Many boats have bluetooth audio devices, so all you have to do is organize a playlist for the evening, bring your phone and surprise your partner with your music.
Can you imagine listening to your favorite songs while wining and dining on a boat?
To further fine tune the evening, talk to the staff before dinner, they can help you play the right piece at the right time!
3. The menu

There may be multiple menu options for a dinner on the boat.
Some boats offer a private chef for dinner on board, which means a meal can be prepared that is perfectly suited to your tastes. Find out about the menu in advance and communicate your special needs or wishes.
Other boats organize delivery on board by local restaurants and here your imagination is free, from Mediterranean cuisine to sushi almost everything is possible…
Surprise your loved one with his/her favorite menu!
4.Outfit – how to dress for a dinner on a boat

If you have opted for a basic romantic dinner, the advice is to stay true to your style!
Choose comfortable and elegant clothes that allow you to move freely on the boat and make a good impression 😉
Remember that on board any self-respecting boat it is a must to take off your shoes, so be sure to get a nice pedicure. As a bonus, you will not have the problem of uncomfortable shoes and sore feet.
If you opt for a lunch on board, remember to bring your bathing suit… you never know maybe between one course and another you may want to take a dip for two!
Whether you are thinking of a romantic dinner or lunch on a boat in the Gulf of Naples, Italy, it will surely remain in your partner's memory forever!
So, what are you waiting for? Organize the surprise of the century and let yourself be surprised by the indelible effect it will have…