Mini cruises aboard Madame Medusa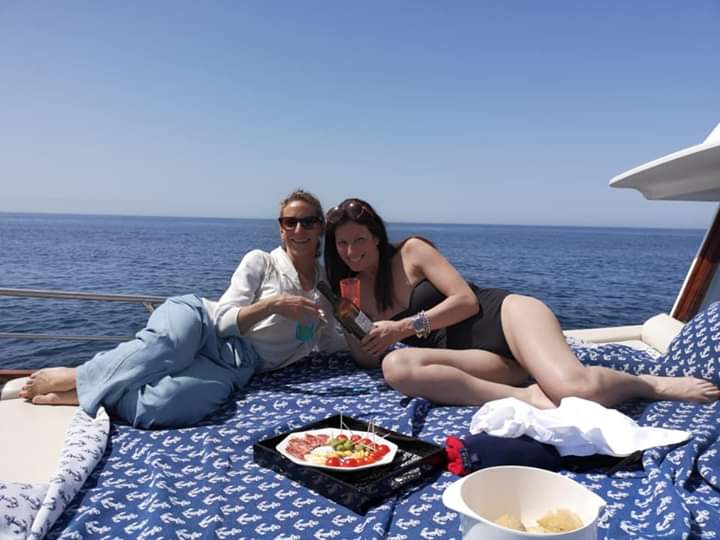 Make your holiday unforgettable with a mini cruise in the Gulf of Naples
Why choose to spend your holidays (mini cruise) on board the Madame Medusa?
The answer is simple. It's cool!
You are lulled to sleep by the waves, you can reach creeks and coves inaccessible by land, you can choose which port to land at for an aperitif and explore seaside villages without the stress of having to leave for the last ferry, and every day will never be the same… and so much more…
Then … put the experience of the Madame Medusa crew, the impeccable cuisine, the spacious and comfortable boat with every option, the discretion, the professionalism and the experience at sea to make your stay relaxing and unforgettable.
What they say about us:
~ "This summer we had the pleasure of spending seven days (mini-cruise) on board Madame Medusa with Giovanni and Mara who were able to welcome and pamper us in the best way. Every wish has been fulfilled. Perfect boat, very clean and always in order; lunches, aperitifs, snacks (for children) and exceptional breakfasts. Excellent cuisine."
~ "Two Paddles, dinghy, fishing rods (included towing around!) And games for children (pirate hats and various costumes) who gladly entertained themselves with the super captain Giovanni and the fantastic Mara, letting their parents doze and relax for a nap." ~ "The staff is able to satisfy the most particular needs: Giovanni's cheerfulness, Mara's discretion and their professionalism have always made us feel good, always traveling safely having two children of 5 and 10 years who, however, still they want to call their adventure friends!"
~ "The Amalfi coast, thanks to Madame Medusa and her staff, was an unforgettable experience for the whole family and absolutely to be repeated! Thank you from the heart of the Scutella's!!!"
A mini cruise is suitable for families or groups of friends, on board you will find everything you need.
The private mini-cruises of Madame Medusa allow you to decide the itinerary that best suits you, navigating during the day between pristine seas and crystalline coves and in the evening discovering the most renowned villages of the coast and islands, such as Capri, Ischia, Procida, Sorrento, Positano. By spending several days on the boat you will be able to dedicate the right time to each place you visit, you can enjoy spectacular sunsets and sunrises, dine in the best restaurants on the coast or savor the Mediterranean, modern and traditional cuisine of our chef on board.
For more information, quotes and to customize your mini cruise, do not hesitate to contact us. You will choose the route or we will propose packages designed for every single need.
 Mara & Giovanni